Neighbor to Neighbor

Identity/System Design, December 2019


Led by the

Quicken Loans Community Fund

, Neighbor to Neighbor is a community outreach program with a mission to lower the number of property tax foreclosures in the city of Detroit through neighborhood-led workshops and canvassing.

Over 15 weeks, myself and 7 other students conducted extensive research, ethnography, and design to produce a full branding system for Neighbor to Neighbor, a comprehensive property tax exemption (PTE) application kit, and redesigned the city of Detroit's PTE application form.

The Mark
We made sure that the mark was variable and fluid to fit a variety of different applications. It was important that Neighbor to Neighbor could be easily identified up close and far away for security and safety.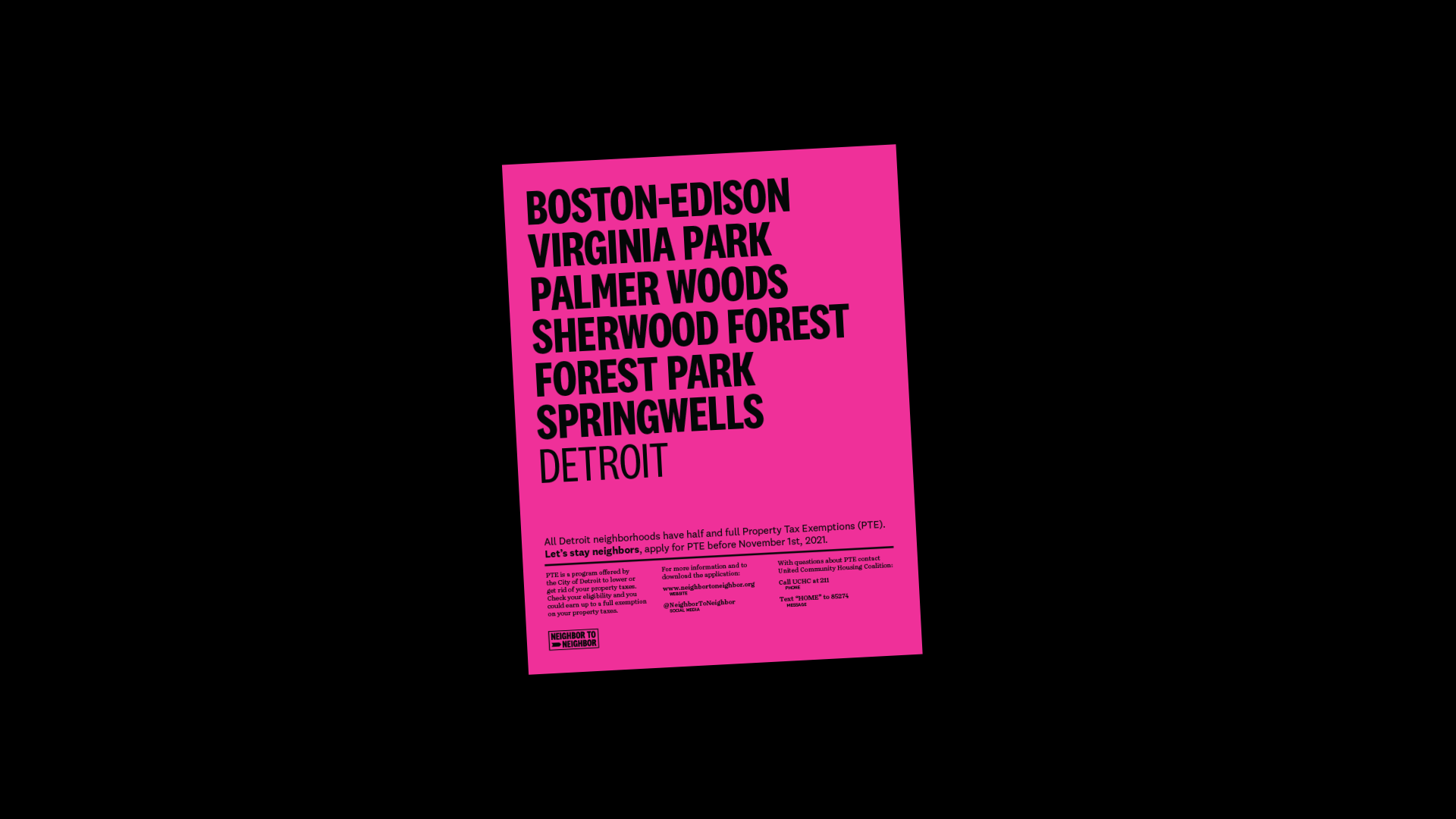 The Kit
Most importantly, QLCF asked us to create a comprehensive and accessible PTE kit that would empower residents to complete their application from their home, reducing the amount of travel and time required. The kit included a folder to store necessary documents in, a pre-paid envelope to return the application in, a magnet and information card with additional resources, and a pen and whiteout pen.

The Application
Although we weren't asked too, we gave redesigning the form a shot too, because even with all the documentation in the world, a difficult form is still difficult. Clearly defined headings provide more intuitive navigation, paragraphs have more breathing room with additional spacing, information is treated more consistently, and tables have been opened up to be more accommodating to all kinds of handwriting.

Process
An in-depth look at the process for this project is coming soon.

The process for this project was extensive and thourough: via 4 presentations to the client, many interviews with canvassers and residents, as well as a complete evaluation of the brand and property tax exemption process.

We are currently producing a book regarding the process of the project. When completed, it will be uploaded here.